5 The Best Newsletter Tools And Solution
The phrase "let's stay in touch" takes on a new meaning today. We want not only to be in touch, but also to be up to date with everything that concerns us: the brand we follow, the idea we identify with, the company we want to work with. What will help us to stay in touch and build a relationship between the company and the customer? Newsletter. Well-known, a bit forgotten, a bit ignored, often ending up in the email bin. Wrong, because mailing has a large and unused potential.
Mailing can be an interesting form of gaining new customers, brand fans or building relationships. It all comes down to what content we fill in the template with, how we encourage recipients to continue subscribing to our messages. Of course, they should not only have interesting content, but also activate them to act, or finally offer the customer profits.
Today we will focus on what lies beneath the efficient and trouble-free sending of the newsletter, i.e. tools for automating the entire process. There are many solutions on the market, each with its own advantages and disadvantages. What they all have in common is easy access, the ability to create mailing templates from scratch and a more or less complicated path of automating the shipping process. Especially for you, we tested 5 available best newsletter tools, we found their pros and cons. They are all worth recommending, because every business will need something different. Check what and why we have chosen and what is our opinion on it.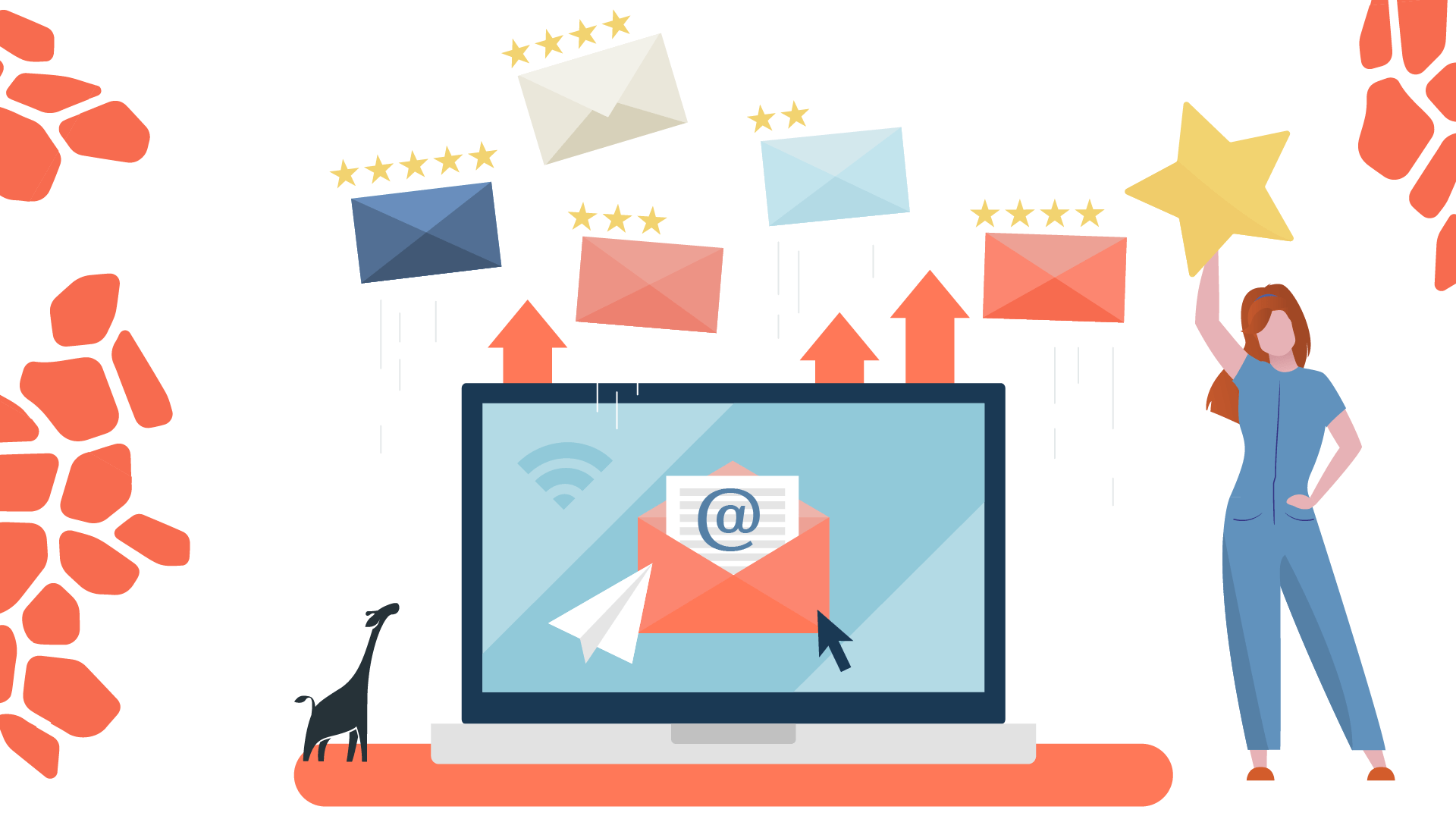 The first of those recommended best email newsletter services is Automizy. This is one of the available automation systems that offers a 14-day free access to most of its functionalities. After this time, we can buy a package of 200, 500 or 1000 additional shipments. Here, we pay for the number of emails sent, not for the subscriber base that we upload to the system. The settlement is made on a monthly basis. At any time, we can upgrade and enlarge our base, as well as reduce the subscription.
Automizy is transparent and well laid out. What may surprise you at first is that the templates of the mailings you create must be saved in the form of templates in order to be able to use them for automation. The mailing wizard is very extensive, it has numerous templates, the content editor also offers a lot of possibilities.
The problem is that when building mailing, for example in Polish and English, we do not have the option of automatic translation or even an automated footer. We have to add data manually each time. The system does not connect saved templates, which means that when you go to the subpage with your own copies, there are a lot of them there.
It is difficult to find yourself in this thicket and indicate what we want to connect to automation. The shipping process is very complex, but also transparent. We create a vertical layout where we can add an e-mail template and a whole range of actions: from the time of sending or its delay, through selecting target groups, to marking the recipient's activity. We can move our recipients between actions, groups, content. We can, by anticipating their behavior, provide them with new solutions. The statistics are also presented clearly, with lots of graphics. We can integrate Automizy, among others with Shopify.
Our test could not be complete without the giant called Mailchimp. The word giant was used here on purpose, because it is a system that is primarily a combine supporting many marketing processes. It allows you to create and send classic mailing, create a landing page, pop-ups, or plan graphics for social media channels. Very extensive functionalities allow you to manage marketing activities on many levels, but they can also be… overwhelming. The starter package is encouraging – we get a database of up to 2000 contacts for a month free of charge. Then we can choose between three variants, depending on the capacity of our base and the planned number of shipments.
Mailchimp can be integrated with around 250 different platforms: from e-commerce, through all social media channels, to WordPress or Photoshop plugins. The automation for creating mailings is equally extensive. Mailchimp is definitely a tool for persistent users who will take full advantage of the range of possibilities offered by the system.

Another interesting product from the group of the  best email newsletter platforms is Omnisend. What does Omnisend have and what two previous competitors do not? Polish language version! So little, and yet for some users it will be a very important difference. We can test the Omnisend for 14 days free of charge, then we can stay on the free side of the force or choose a paid package. The free version is quite advantageous – we can send up to 15,000 emails within a month.
Let's start with the system interface: it is very readable, clean and fresh. It does not overwhelm with unnecessary elements, it promises that the work will be easy and pleasant. From the level of creating templates, we can choose between a classic newsletter, a landing page, a pop-up or a sign-up box. More importantly, creating and submitting the creations can also be done in Polish. This is a great help, especially for novices. The automation module is very transparent and extensive. In addition to our own, fully individual path, we also have a choice of ready-made formats, e.g. for follow-up actions.
Omnisend is aimed at promoting and supporting sales, online store. The system reminds you about it at every step, asking for integration with our e-commerce solution. As in any such solution, the database can be imported from a CSV file or entered manually. Additionally, from the Omnisend level, we can run a campaign via SMS. This is a very useful option, especially in trading activities.
In our opinion, the best solution, especially for novice users of automation systems. First – the Polish language version. And not only at the user panel level, but also at creating templates. If we set the Polish language by editing the available template (the choice is huge) or creating our own, then automatically all standard terms in the newsletter will be translated.
When testing Mailer Lite, we have a database of 1000 contacts and 12,000 e-mails for sending. It is quite a lot to test the system and to find out f the system is suitable for us. Mailer Lite has a very clear and easy to use user panel. We can freely create not only mailings, but also landing pages, pop-ups and promotions. We can easily integrate each solution with a WordPress site.
What deserves attention is the way of presenting statistics – apart from numbers, we also get a graphic layout of our mailing and a map of clicks on individual elements. Automation in a horizontal layout allows for quite a lot of activity – from setting the date of sending, through redirecting to the appropriate subscriber bases, to determining the order of events. The entire process is therefore easy, transparent and according to plan.
Last, but not least from the top newsletter platforms is Mailjet. It is a product that will work in companies that focus on team cooperation. You can invite members of your team, assign permissions, set roles, and collaborate on the fly. You can observe comments, leave and reply to them, the information flow between employees is smooth. Mailjet Collaboration Tools allows collaborative content creation and access for anyone, allows you to make changes and to read and check your content multiple times before sending.
One of the most interesting features of Mailjet is the ability to create dynamic, personalized content that is created for each recipient based on his name, surname and location. You can customize your newsletter as needed using the available unique templates. It is an intuitive tool that allows developers to send messages from the application in the easiest way. Designers and content creators can change email messages without having to dig deep into the code. Mailjet allows 200 e-mails to be delivered free of charge. 
Conclusion
We hope that our short review has explained to you the specifics of how automation tools work and will allow you to choose the one and only one from best email newsletters. A newsletter is an important but often forgotten marketing solution. More importantly, it is a low-budget form of promotion that, if well structured, can bring profit and have a positive impact on the company's image. Be sure to check one of the best email newsletters. Test, try and create unconventional newsletters!
Check out our ranking of video conference tools >>> click!
Read the rest of our blog articles >>> click!