The app is not everything
7 tools that support the application's work
It really happened: you have your own app and website. You've created a really good product. And suddenly you've reached the moment when your app appeared in the store. You even noticed the first mass entries on the website. It's so fantastic.
But what's next?
Creating a product does not guarantee the success of the enterprise. That's why we decided to point out a few tools that will help you spread your wings and not lose your head. Because if you can find support, why do not use it?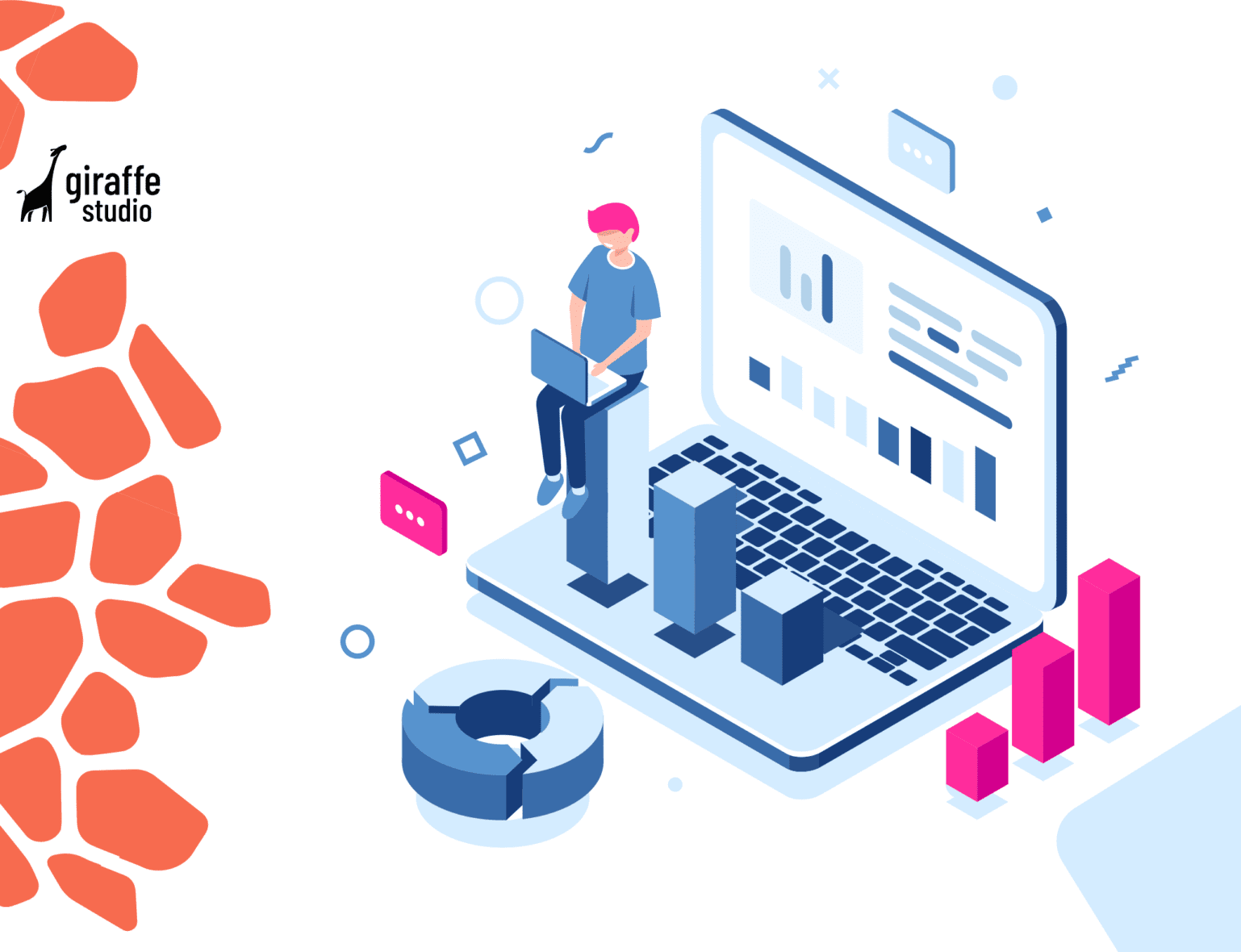 1. Google Analytics
It is worth analyzing statistics to transform your weaknesses into success. What really can help you with it is Google Analytics. It is a tool created for website administrators that provides a lot of information about website traffic. What information exactly? Statistical data of user flows, source of entries and time users spend on the site, as well as places on your website that they visit most often.
Recently, the Beta version of Google Analytics introduced traffic monitoring in the application. The number of app downloads for commercial products is important, but also the "quality" of users and their activity counts. Users of high "quality" will spend more time on our site, more often will return to it and make a purchase. For example, if UU (a unique user) reads three articles on the blog and decides to buy our service, this is not only our success, but also a determinant of "quality" of the user. In the context of mobile applications, a "high-quality" user is the one who not only downloads the app but also uses it and, for example, buy our service through it.
I Configuration
To configure Google Analytics correctly, you must have an access to the server, to the page code or, in the case of WordPress, install the appropriate plug-in. If in our organization a lot of people visit our website (because they treat it as a knowledge base), it is worth installing filters separating intra-organizational traffic from that outside. It will help us not to disturb the correctness of statistics.
II First month
Using GA, you should keep statistics in perspective at first. It is better to filter out unusual entries from odd countries. "Odd" countries are, for example, those in which "online troll farms" operate or those where there are certainly no clients for us. It is also worth reading some literature on the subject to learn more about the capabilities of the tool. The network is not lacking valuable tips.
III Systematic analysis
If we do not employ statistician or an analyst to process data, it doesn't mean that we will not use anything from foreign-sounding terms and complicated charts. We can use GA to check the peaks, sources from which our potential customers enter our site, verify the effectiveness of advertising campaigns or sponsored articles.
Pro TIP
If we do not have time to log in and analyze the statistics which GA gives us, we should instal the Google Chrome plug-in.

Page Analytics gives us the ability to check statistics on a daily basis. In addition, it has a heatmap that shows us what users click on our website. This allows you to confirm whether an item on our site is needed or not.
2. Website speed test
If we have a slow website through which disaffect out customers from our offer, then our investments and activities can come to nothing. First of all, users may not find the product / content they are looking for because they do not persist in doing it. And secondly, the website is a calling cart of our business, so it's important to present ourselves from the best site at the very beginning.
It is also worth remembering that we've got the greatest impact on the website. An account in a social network may disappear or a social network site may cease to be popular but the website will always be ours. Therefore, it is worth ensuring that it works as efficiently as possible. Because would we like to find ourselves on a website that doesn't load well?
There are several tools for testing website speed. Google provides the most popular one.

The speed test in the first place divides the "load" of the page into mobile devices and computers. It is worth taking care of both versions of the website if you do not have the RWD version.
At the beginning the test shows the overall percentage result. The higher it is, the faster our site loads. Then the collected data is displayed, such as the first rendering of the content, the delay of the first interaction and laboratory data. If the test results tell us nothing, it doesn't matter. We can always turn to someone for help, or improve it with the web development company.
3. Canva
Advertising graphics can kill any product. It is worth ensuring their proper appearance, because we usually make our choices through the eyes. If you care about proven solutions, but you don't have the skills to create a professional design, Canva will help you to achieve the goal. The tool provides ready ideas for graphics — suited to specific social media.

Canva has a huge number of graphic designs ready to be published on social media (they have the appropriate required sizes). The user can also find marketing materials such as leaflets, posters, presentations and advertising formats. Creating each project, you can use ready-made designs which you can modify, changing the text, graphics or take advantage of inspiration. It is also possible to find additional elements such as stock photos, templates, fonts, backgrounds as well as free stickers. The tool is incredibly intuitive and helpful.
4. Trello
How to deal with tasks? How to easily and efficiently coordinate the work of the team? Use Trello. The tool is extremely simple and effective. This is a properly presented task list, which is divided into subsequent lists of subtasks. Trello allows you to sort your tasks according to their rank and size. The user can add a time monitor, schedule a meeting using Google calendar, create a checklist and add materials. A very interesting feature of Trello is also a set of table templates. They give the opportunity to use ready-made and, what is very important, tested boards that can organize the work of people cooperating on the same project.
Trello it very helpful for teams that work in different places on different tasks. The tool allows user to write the whole process, add comments, postpone the task in time. It translates into better organization and communication. Trello will help in such prosaic situations as moving house, but it will also be equally helpful for large IT projects. The ability to share boards, set cells, create deadlines, measure the time we've spent on a given stage, and a clear interface are just some of Trello's advantages.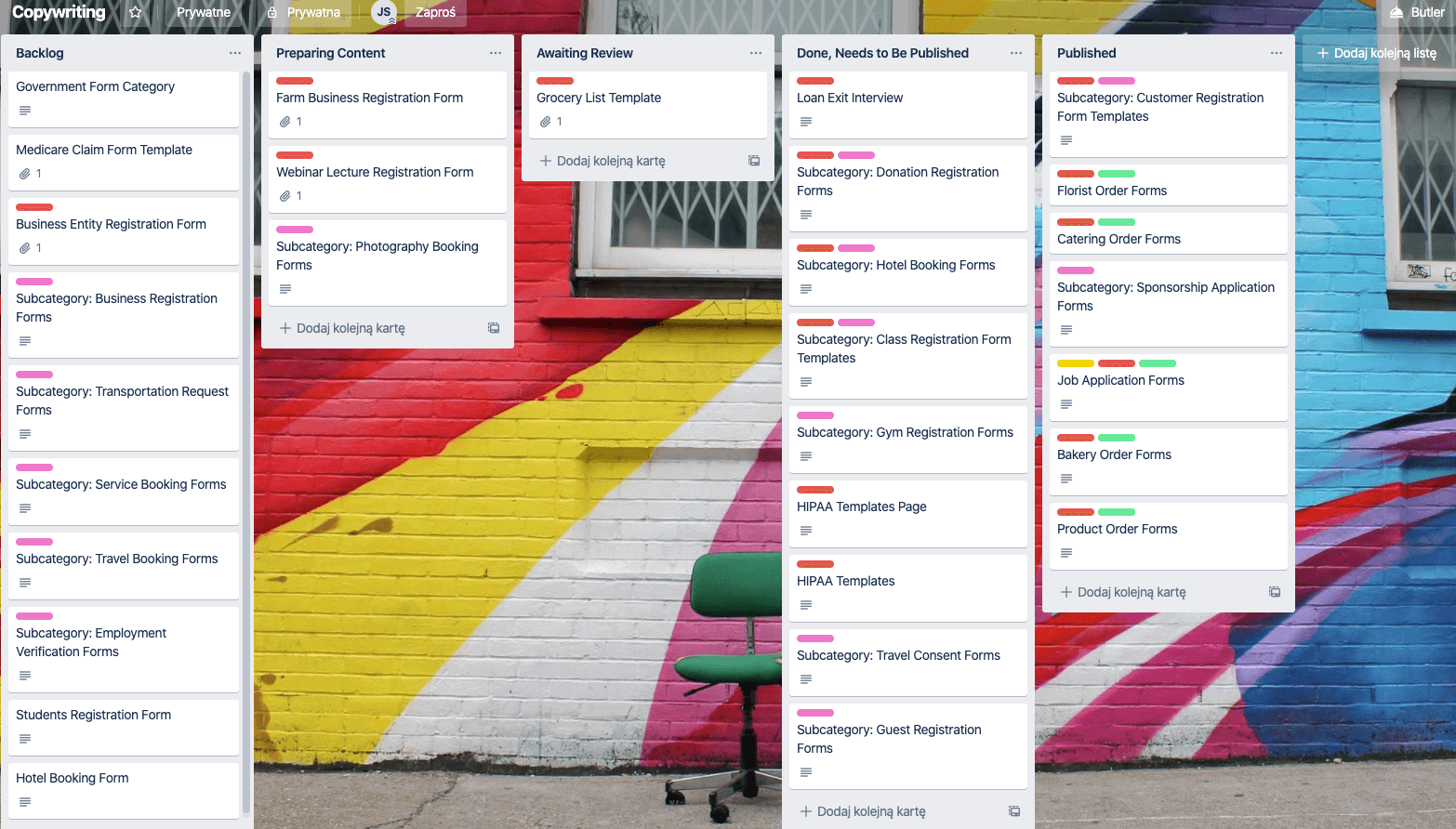 5. Brand24
Who is talking about us? Any feedback is valuable to us, even if it is a bitter pill to swallow. Brand24 is a tool that will help us to realize where, who and how talk about us on the net.
This Polish app is gaining more and more users around the world. It was used, among others, by the administration of Barack Obama or Google (sic). The tool is used to monitor the Internet for keywords — it can be the name of our application, our product or anything that interests us at the moment.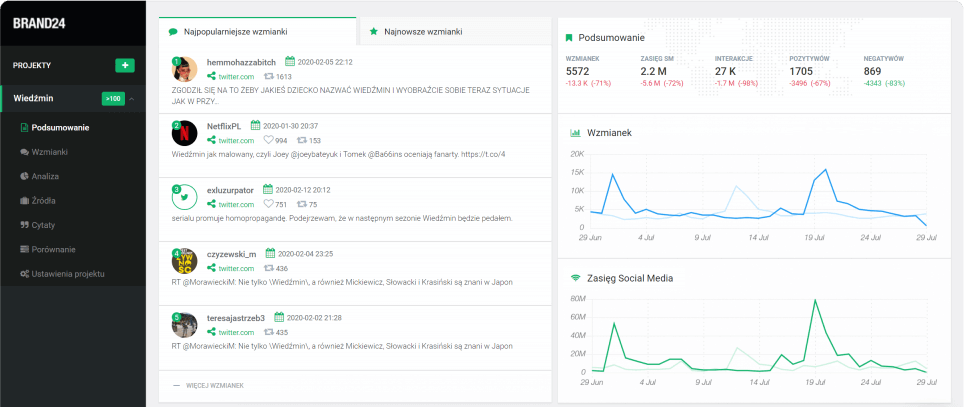 Brand24 configuration is very simple. Just enter the phrases you are interested in, words that must be excluded and wait until they are indexed. If we are interested in e.g. Giraffe Studio, we can enter GS, but exclude other companies with a similar abbreviation, such as Goldman Sachs.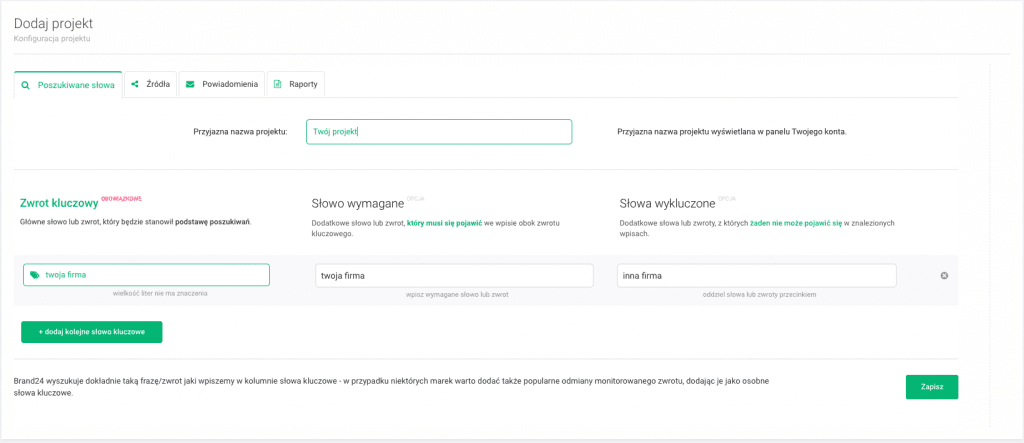 6. Sotrender
This is an application that uses "big data" that shows us how we manage social media. During configuration, we enter our accounts in social media and indicate competition. After this step, we can analyze coverage statistics, get to know our recipients better and check the effectiveness of our campaign. What is very important, we have everything in one panel.
It's worth using Sotrender to track social media progress. We can check the number of new followers, time we had reached the largest group of viewers or the cause of their activity on our website.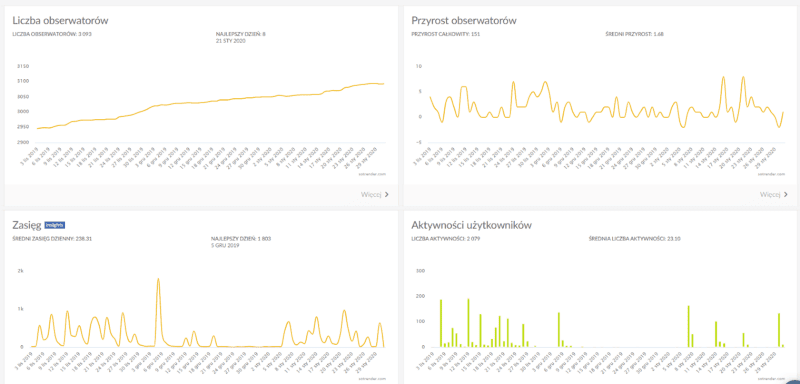 The tool also gives us the ability to check coverage and brand engagement. Thanks to the application we will see which of our content was the most popular, most commented or had the biggest number of likes.
Sotrender also takes into account the specifics of each social medium, giving Twitter the ability to check which # tags we use most often, and what data we use most often on instastories on Instagram.
7. Facebook advert
This action is relatively simple to perform, and can significantly increase the number of followers of our website, so bring new customers to us. You can just create a content on your site and start promoting specific, existing posts. This is admittedly less effective than using an ads manager, but it's enough to get started.
Using an ads manager requires us to have a Facebook page. It is different with ads on Instagram. If you select in the ad creation form that you want to display ads also on Instagram, the ad manager will create a temporary account for the purposes of the advertising campaign.
When you create your ads, use tutorials and tips. It will help you to better spend your advertising budget.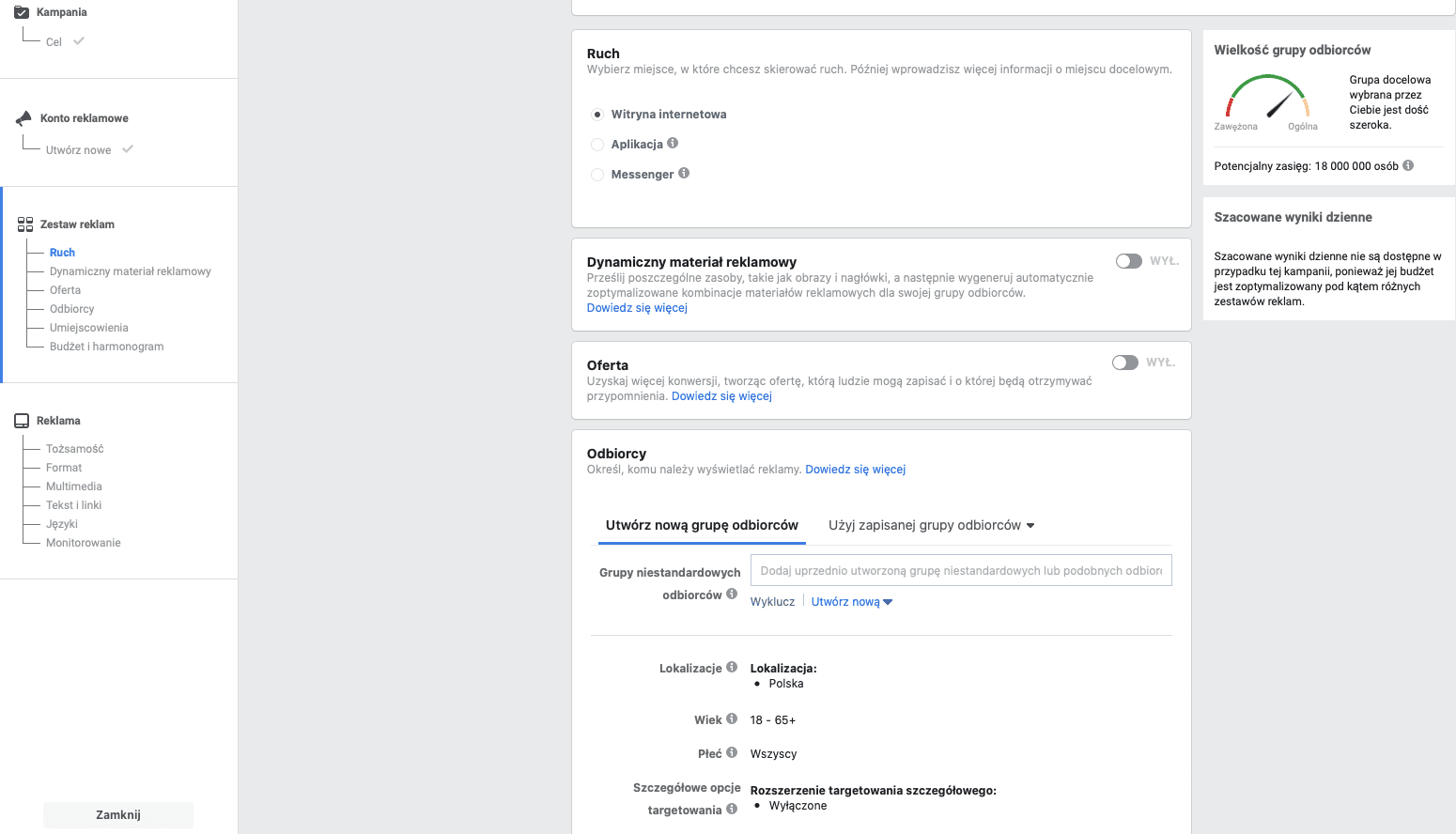 We start creating a campaign by setting a goal. It can be brand recognition, coverage, video views, traffic or number of downloads. For example, if our goal is to increase sales through our website, we will choose "traffic". Then we configure the rest of the campaign, indicating, among others, the group of recipients, location (only Facebook or all available) and indicate the budget. The entire ad creation process is legible and written step by step.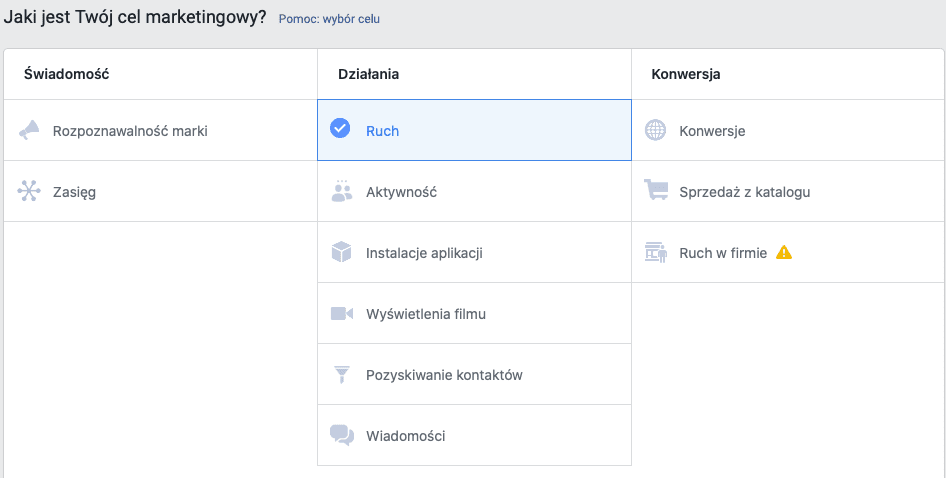 After the approval, we can just wait for our campaign to achieve the goals. It is worth mentioning that our content, photos and videos must be properly prepared — created in accordance with Facebook principles. It must meet the standards of the community. Otherwise, our ad will not be approved at all or will be limited in the range. The quality of materials is also important because the advertisement works "on Facebook" and will be more effective if it is appealing for the viewers.
The tools presented above can help you organize your work better, increase your profits as well as act more effectively on the internet. Because you can really expand your audience. Of course, everything takes time, needs consequence and patience, but it's worth focusing on good practices from the very beginning. The tools that we recommend are very intuitive and effective, so they can really be a great support for you.
If you have any questions or need help in any of these areas, please contact us.