Giraffe Studio in Strong Women in IT report
What is 'Strong Women in IT'?
'Strong Women in IT' is a project aimed at showing the presence of women in high positions in the IT industry. The initiative is to show that women, on an equal footing with men, are active in the field of new technologies, are strong, are not afraid of challenges, have the appropriate knowledge, qualifications and skills to hold managerial positions. 'Strong Women in IT' activists create reports that distinguish women, prepare educational materials, organize events and reward women who are most active in their field. The project allows us to distinguish women who inspire those who are also not afraid to aim high.
The 'Strong Women in IT' report focuses on the most important data – it shows the way women have traveled to get to where they are. It shows not only the size of the company or numer of employees, but also their successes and failures and the challenges they face.
Agata Kruk one of the 'Strong Women in IT'
We are pleased to inform you that Agata Kruk, Giraffe Studio COO, has become one of the 200 leaders distinguished in the 'Strong Women in IT' 2021 report! 💪
We are very proud of her to be part of the women's community that creates new technologies. We are very glad that our team member could take part in a report that inspires others, breaks stereotypes, and shows how much women contribute to the IT industry.
You can download the report for free on the website: https://strongwomeninit.com/. 📥
In the report you will find:
👉Statistics on the work of women in the high-tech industry,
👉Expert comments from members of the Project Jury,
👉200 pages of Strong Women 2021 distinguished in this edition,
👉Lists of books, podcasts, films recommended by the Leaders participating in the report;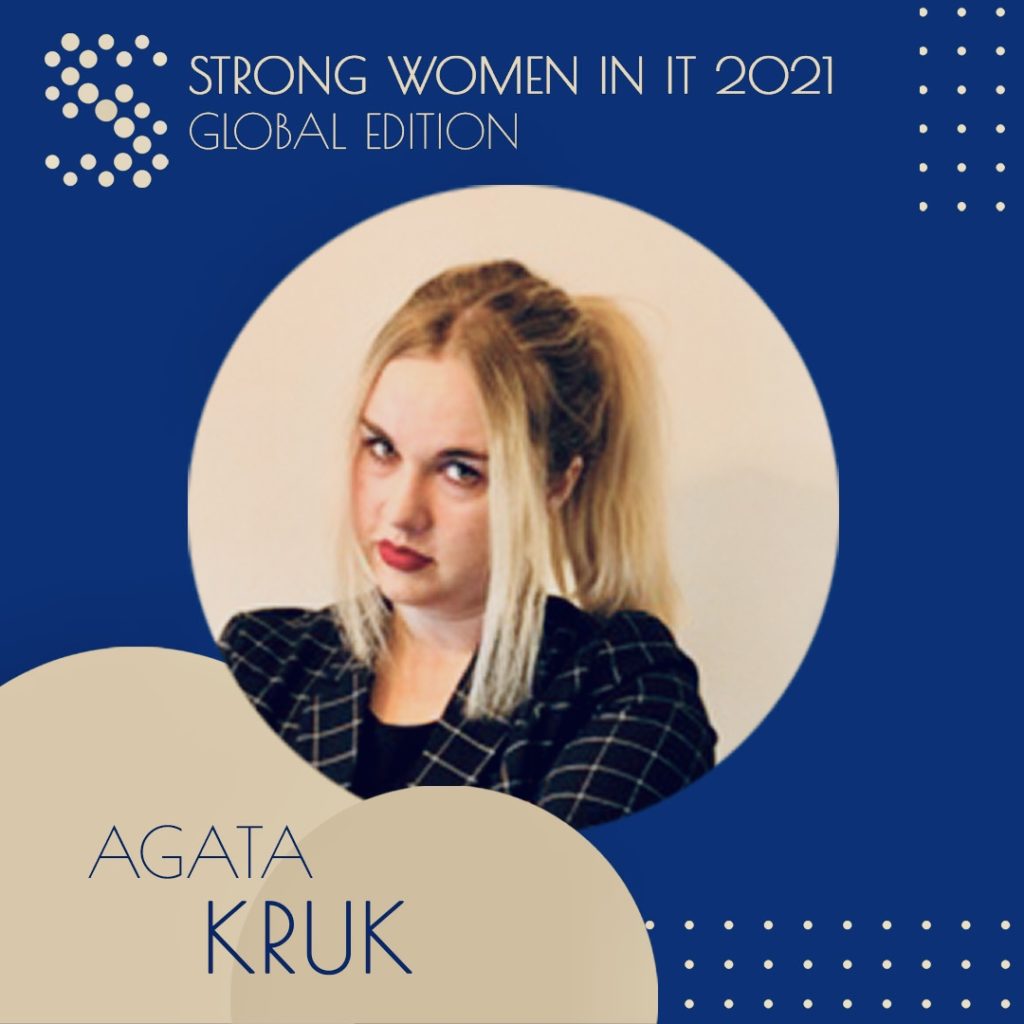 Who is Agata?
Agata joined the IT world thanks to her husband – CEO of Giraffe Studio. It was three years ago when a humanist with a head full of creative ideas decided to join the Giraffe Studio team. Her activities began with human resource management, but it quickly turned out that she is great not only in the field of HR, but also in CSR and PR. Recently she completed postgraduate studies in IT project management.  She is one of Giraffe Studio founders, leads a team of about 20 people and manages projects. She is determined, ambitious, eager to learn and develop. We couldn't have dreamed of a better boss, we are very proud of her.